Exploring the South Part Two
If you haven't already, check out my last blog post in this section to read all about the first part of our trip to the south, which is all about our time in Nashville! This post is all about our time in Charleston, South Carolina where we spent this past labor day weekend.
We got up early on Saturday morning and were out the door by 5am. Of course we headed straight to Starbucks because, hello, eight hour car drive requires allll the coffee haha! The drive was absolutely gorgeous and we had so much fun just chatting and enjoying each other's company.
When we arrived in Charleston, we went straight to our AirBnB to freshen up because it seriously went from 70 degrees to 89 degrees and the humidity went from 0 to 100. Our AirBnB was so cute, and the perfect little getaway for the weekend. Once we got settled, we decided to call an Uber to go into town. Truly, unless you want to spend an hour trying to find parking and spend a ridiculous amount on paying for it, I highly recommend using Uber during your time there.
When we got into town, we spent the afternoon walking around and exploring the town. It was so strange being in a city that looked and felt like was several hundred years old with such rich history, but have it be full of diversity, modernism, and 21st century style shops and restaurants. We made our way down to the waterfront and ended up walking the board walk in front of Rainbow Row, which is a street of houses painted bright purples, pinks, greens, and blues. While today it acts as a tourist attraction, it's official use was helping drunk sailors find their ways back to their boats (our hubby's liked to bless us with random facts during our stay HAHA).
After walking around for a while, we ducked into a cute pizza shop to eat some great food and then make our way to The Rooftop Bar at Vendue. The bar was located above a restaurant, with the only way to the top being an old elevator that held 8 people at a time. It definitely added to the draw of the bar. But when we got up there, it was well worth it! We had a gorgeous view of the sunset over the city, the drinks were excellent, and the vibe was trendy and relaxed. We actually ended up going their twice while we were in town, and the second night they had live music playing which made the experience even better.
Our second day in Charleston we headed to the Isle of Palms, a gorgeous beach with white sand and rolling waves. We spent our time swimming, reading, tanning, and relaxing. If you are ever in the area it is an absolute must to visit.
During our time there, we all decided we wanted to visit a historical site. We chose to visit the Mcleod Plantation. It was sobering to hear the history of the plantation and how so much of our country's history bleeds into our present. As much as we enjoyed doing fun activities and goofing off, we had the opportunity to have some really good discussions about our county's history and how we can continue to actively pursue a united country. Visiting the plantation was definitely something that was a catalyst in provoking our conversations and bringing to life the struggles that people have and continue to face.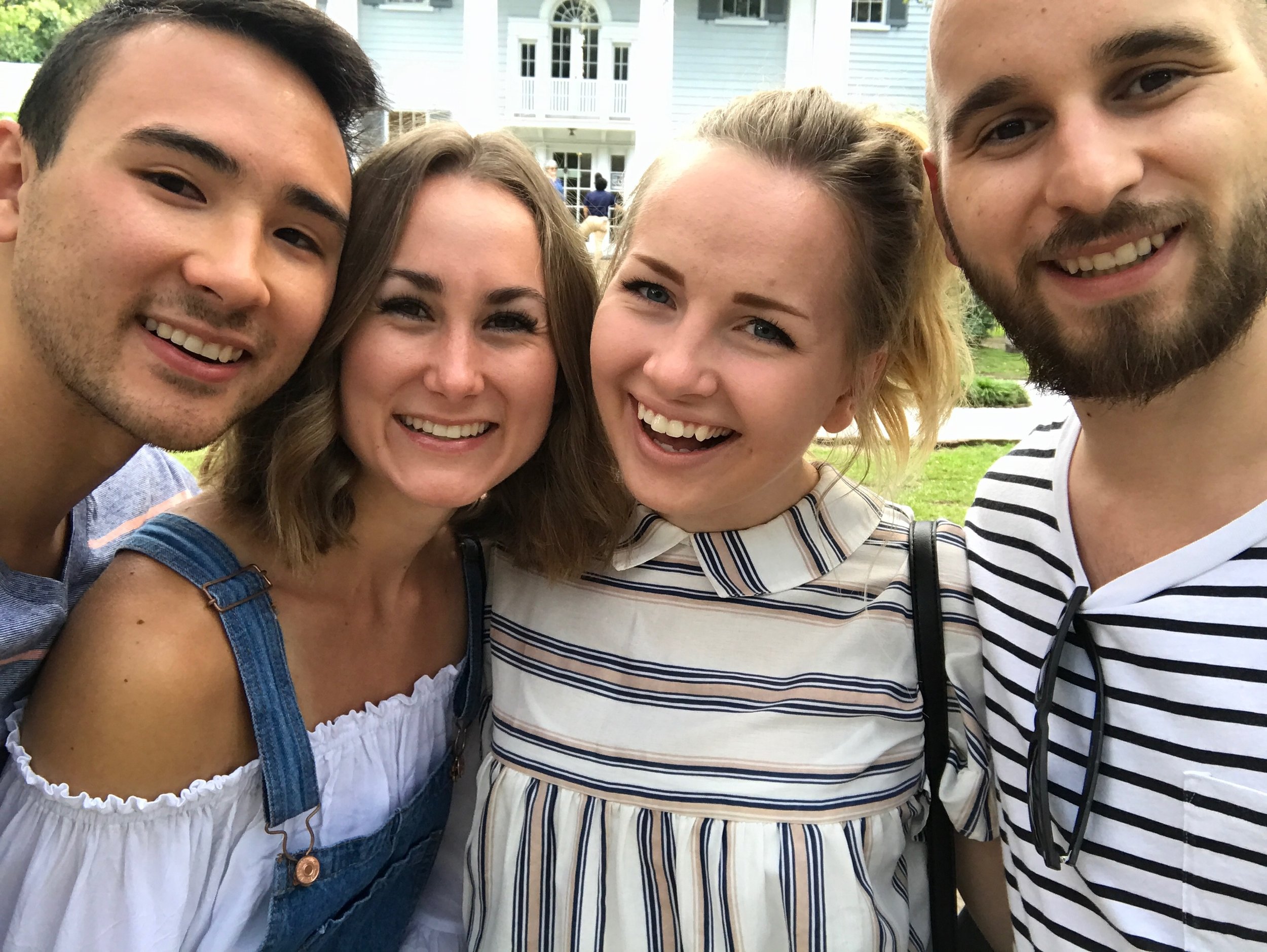 Charleston will definitely be a place that Alex and I will revisit in the future. There is so much to see and explore that three days just wasn't enough to enjoy it all. We already can't wait to go back!